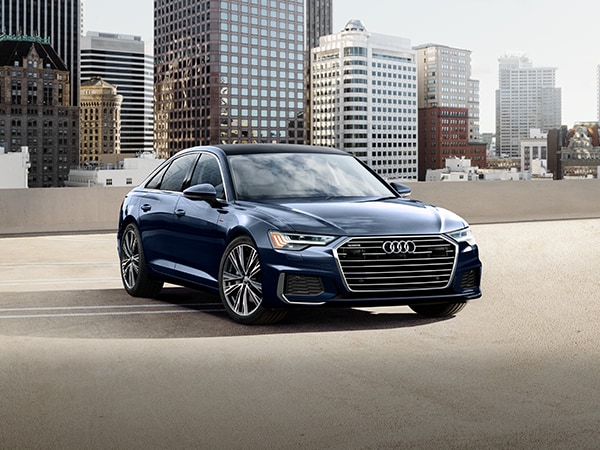 Drivers celebrate the Audi A6 as comfortable, spacious, and well-equipped. This mid-size luxury car comfortably seats five passengers and is adorned in high-end finishes that help dignify Audi as a luxury automaker. For drivers who love technology, the displays, gadgets, cameras, and additional driver assistance features are plush throughout the interior. Learn why you should get behind the wheel of a new Audi A6.
Exciting Updates in the 2021 Model
The updates the Audi A6 receives are similar to the upgrades you might have seen in other Audi models. For example, the base Premium trim comes standard with 19-inch wheels, keyless entry, and an integrated toll-road payment system! A simple upgrade to the Convenience package will include a 360-degree camera system and in-dash navigation with a 10.1-inch infotainment display. As the trim upgrades, other changes you will see have adaptive cruise control, lane-keeping assistant, and standard rear-window sunshades. A new Black Optics Sports package includes a black exterior trim, 20-inch wheels, and sport suspension.
Explore The Power and Performance of the A6
The 2021 Audi A6 comes with two powertrains. The first is a 248-hp turbocharged 2.0-liter four-cylinder, while the second is a 335-hp turbocharged 3.0-liter V-6. Either option is more than enough to give this mid-size sedan the power, pick-up, and performance of a high-performing vehicle. Interestingly, both powertrains have integrated hybrid technology. Either a 12 or 48-volt starter/alternator runs the engine's start/stop system and other miscellaneous ancillary equipment. Drivers appreciate balanced handling, precise steering, and the refined ride of the Audi A6.
Touches of Luxury Throughout The Audi A6
First, the interior of the A6 is modern, comfortable, and downright luxurious. Expect soft leather on seats and armrests, wood and nickel-finished metal trim on the door and dash, and simple-to-navigate touchscreen controls, including climate control drive mode and, of course, infotainment.
The Audi A6 infotainment system is Audi's familiar MMI interface with several outstanding upgrades. No longer will drivers see a click-wheel control on the center console. Now, you will see a reconfigurable menu that can be customized to suit your driving needs. An 8.8-inch display offers navigation, Apple CarPlay and Android Auto, and onboard Wi-Fi as standard features. A 10.1-inch screen is an optional upgrade, as is a 16-speaker Bang & Olufsen set up.
Scheduled A Test Drive At Audi Fresno
Audi drivers have been waiting for the new Audi A6 to show up in showrooms all year. To be one of the first to drive off the lot with your new Audi, schedule your test drive today for the long-awaited sports performance experience. Contact Audi Fresno today. Schedule your consultation online, call 888-865-1897, or stop by our showroom to see our latest inventory at 7121 N. Palm Ave, Fresno, CA 93650.