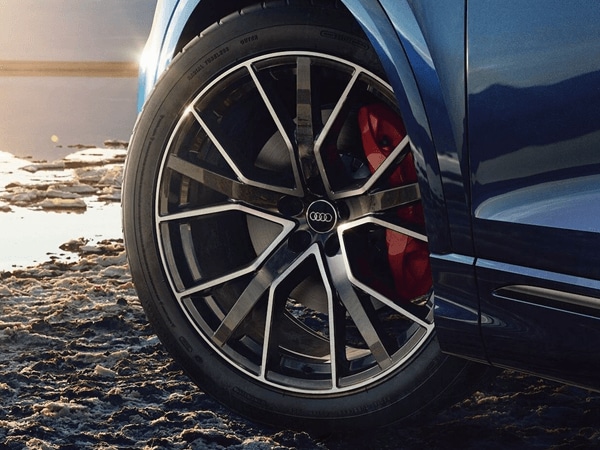 To get the perfect speed, performance, and safety levels on thrilling rides, all the parts need to be created within exact specifications. The tires for your Audi are no different. You may be tempted, when it comes time to replace your tires, to opt for a set from your local tire shop down the road, but you'll be trading in the agility, performance, and ease the Audi is known for.

With Audi tire service, you know you're getting the best product for your vehicle and the best service on the market. Designed specifically for the model of your car, Audi tires are produced with over 200 premium materials and an immeasurable amount of care. Safety is our top priority, but performance is a close second, and optimizing both of these items requires the best tires for your car – Audi tires.
When to Replace Tires
Knowing when to replace your tires isn't a complicated science. In fact, there's a very quick trick that will tell you when the tread is getting too thin. Take a quarter, place it upside down in the tire tread, and if you can see the top of Washington's head, it's time to get new tires. The tread wearing down on your tires will decrease the traction you get on the road, making your drives less enjoyable AND less safe.
Audi Tire Service Perks
With the team at Audi, our tire service is unmatched. Not only do our tire experts know the best tires for your vehicle, but their customer service will blow you away. When you buy from an Audi tire center, you'll be getting the best of everything, but here are some of our favorite perks:
Every tire set comes with professional mounting, balancing, and alignment.

New tires will be installed by technicians who are factory-trained by Audi. That means their training is the best possible; you won't find better tire technicians than ours.

Every tire will be specifically calibrated to Audi specifications. Don't worry, we don't mix and match our rollercoaster wheels here.

The inventory available is vast; you'll have more options at your fingertips than you would anywhere else.

Every tire set comes with Road Hazard Coverage for 24 months or until your tread is 2/32", whichever comes first. Only Audi tires are eligible for this service.
When you work with Audi, you'll be thrilled with the quality of service and quality of our tires; we don't compromise on either.
Contact Our Team Today!
If you think it might be time to replace your tires, whether it's because the tread is dangerously worn or because the seasons are changing, our team will make the process quick and painless. We have a wide selection of tires for every season, and we'll let you know which ones are best for your vehicle. Every time you drive your Audi, the experience should be better than the last, and keeping your tires in tip-top shape is a critical component of that. Call our Audi Fresno today to schedule an appointment.