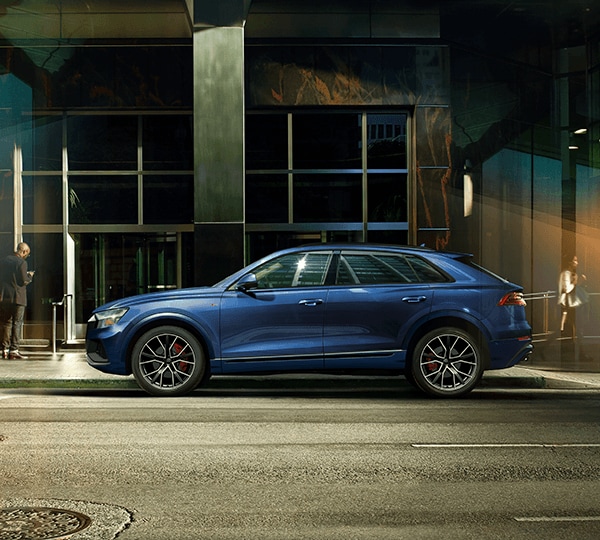 The Audi Q8 has a sleek, stylish design and top-of-the-line features, this SUV is sure to impress. With its aggressive stance and bold lines, the Audi Q8 makes a strong first impression. But it's not all about looks—this SUV is also packed with the latest technology and luxury features.
The Audi Q8 advantages
The Audi Q8 features a 3.0-liter turbocharged V6 engine that produces 335 horsepower and 369 lb-ft of torque. It's paired with an eight-speed automatic transmission and all-wheel drive. The Q8 has a maximum towing capacity of 7,700 pounds and a fuel economy rating of 19 mpg in the city and 25 mpg on the highway.
The Audi Q8 is a stylish and luxurious SUV that offers an array of features and amenities not found in other vehicles on the market. One of the most notable advantages of the Q8 is its spaciousness enough to accommodate up to seven passengers with ease. Under the hood, the Q8 boasts a powerful turbocharged engine that delivers exhilarating performance. Inside, the cabin is spacious and filled with natural light, thanks to the panoramic sunroof that provides an abundance of natural light and fresh air. Another highlight of the Q8 is its advanced infotainment system, which includes a touch screen display, voice-activated navigation, and an impressive sound system. And no matter where you're sitting, you'll enjoy a perfect view of the road ahead. With its cutting-edge design and impressive list of features, the Audi Q8 is sure to turn heads everywhere it goes.
What makes the Audi Q8 great choice for drivers and families alike
The Audi Q8 is a great choice for both drivers and families. It's a comfortable SUV with plenty of room for passengers and cargo, and it comes standard with a wide range of features that make it both safe and practical. For drivers, the Q8 offers a smooth and responsive ride, thanks to its quattro all-wheel drive system. It also has a powerful engine that makes it well-suited for both city driving and highway cruising. Families will appreciate the Q8's spacious interior, which features plenty of room for both passengers and luggage. The SUV also comes standard with a host of safety features, including blind spot monitoring and adaptive cruise control. In short, the Audi Q8 is an excellent choice for both drivers and families who are looking for a stylish, well-equipped, and safe SUV.
These features not only make driving more convenient, but they also help to keep passengers safe. Whether you're looking for a stylish new ride or a safe and reliable SUV, the Audi Q8 is definitely worth considering. Call Audi Fresno today to schedule your test drive.