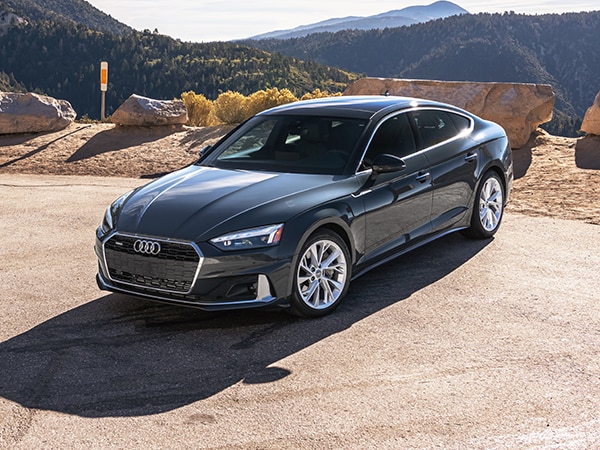 When you're looking for the style of a sedan with the utility of a hatchback in a luxury vehicle, the Audi
A
5 Sportback pulls it off with an undeniable classy appeal. The dramatic sharp styling makes for an eye-catching look, and it boasts a posh interior with tech-forward rich interior designs.
The powerful Audi A5 Sportback comes with your choice of power, featuring two turbocharged four-cylinder powertrains with a 12-volt hybrid system. The 40 TFSI features 201 HP, while the 45 TFSI raises the bar slightly to 261 HP. With Audi Select, you can select the optimal driving conditions that maximize your power and fuel efficiency while matching your driving preferences whether you're driving around town or on gravel roads.
When you choose the TFSI 45, you get to enjoy the sports suspension that reduces body rolls and delivers a higher level of handling, allowing you to take corners comfortably at higher speeds. The agile design makes hitting potholes and other uncomfortable road conditions with its adaptive suspension partnered with the responsive front tires making Audi A5 Sportback a delight to ride in even on the bumpiest of roads.
Interior Comfort and Design
The interior features a plethora of high-quality materials and finishes along with high-end features. Although the rear seat passengers may not have as much room as a traditional sedan, there is still enough room for an average-sized adult.
All Audi vehicles come with leather power front seats with ventilation and heating that can cool or heat in any weather. Enjoy a panoramic sunroof that helps the cabin space feel roomier with extra lighting and three-zone automatic climate control. No matter where you are sitting, you can be seated in your optimal climate zone.
The cargo room provided by the hidden hatchback design gives way to a large cargo hold that makes it a practical choice for when you need to haul luggage or everyday groceries.
The 10.1 Infotainment touchscreen comes standard on all A5 models with Android Auto and Apple CarPlay compatibility.
Safety and Convenience Features
The Audi A5 Sportback comes with standard safety features that add peace of mind as you drive around the city in style. Earning high safety ratings, the Sportback features collision warnings, automatic braking, lane departure warnings, and auto high beams that make safe driving a breeze.
Find relief from traffic with adaptive cruise control with lane assist that maintains a safe distance from the cars in front and assists in using the throttle, braking, and steering for a more comfortable drive.
If you're shopping for a practical luxury vehicle, the Audi A5 should be at the top of your list. The attractive, sleek roofline hides incredible cargo space behind turbocharge power with plenty of connectivity features and driver-assist technologies fit for a great commuter or even just a day-to-day vehicle you want to look good in.