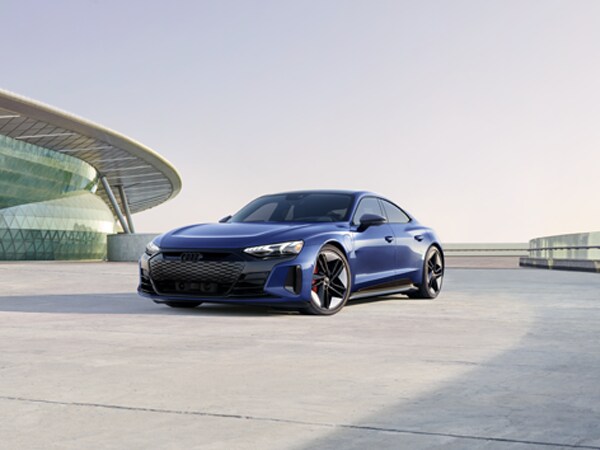 Audi is one automaker that truly knows how to make a great electric vehicle. Audi being a longtime pioneer of the automotive industry, it comes as no surprise as they have taken on the challenge of creating an electric vehicle that is functional, stylish, and comfortable while reducing the carbon footprint. The lineup of electric and hybrid models offers an expansive selection of models across crossover SUVs to luxury sedans. Let's go over some of the many selections you have when choosing your next luxury electric vehicle.

Audi e-tron – The first-ever fully electric SUV built at Audi boasts an impressive twin-electric motor with a powerful towing capacity of over 4,000 lbs. with a horsepower of 402 and 490 lb.-ft of torque with boosts engaged.
Audi e-tron Sportback – The Audi e-tron Sportback features the functionality and space of an SUV with a sleek design and signature slanted roofline. Another powerful electric SUV with incredible performance and the ability to tailor your drive to your needs at the moment.
Audi e-tron S – Equipped with three total electric motors, one that powers the front and two that power the rear, the Audi e-tron S is a fast, powerful high-performance vehicle that truly captures the essence of the Audi standards.
Audi e-tron S Sportback – Take all the power of the e-tron S and wrap it up in a classic Sportback design, and you've got power and style that is both practical and high-performing.
Audi Q4 e-tron – This all-electric SUV combines performance with aerodynamics and is an incredibly roomy option. It comes with fast charging capabilities to enjoy your ride with little downtime.
Audi Q4 Sportback e-tron – A blend of the 4-door coupe with a spacious SUV delivers 295 horsepower and packs a powerful punch with a spacious interior and a kinetic design.
Audi e-tron GT Family – The Audi GT and RS are the electric versions of the classic grand touring models evident in the design and performance. The powerful duo can boast up to 637 horsepower, while the interior offers a sporty design with electric motors that boost the fuel economy.
Audi Hybrid TFSI e Models
Q5 TFSI e – With a combined gas and electric engine, this hybrid plug-in model provides optimal performance with extraordinary fuel efficiency.
A7 TFSI e – The iconic A7 has evolved into a hybrid option with the efficiency of a 4-cylinder engine combined with the plug-in hybrid model to give you a classic look you have grown to love with a better for the planet system.

Why Choose an Electric Vehicle?

Style never has to be compromised when choosing an electric vehicle. Audi gives you a wide selection of styles and models to choose from combined with the iconic style and the exceptional performance that Audi is known for. Although electric vehicles may cost more initially, you save tremendously on fuel costs, plus many states and governments offer incentives. Your maintenance rates will be much lower, and the best part, you reduce your carbon footprint.
Want to make the switch to a stylish luxury electric vehicle? Call Audi Fresno today to schedule a test drive in an Audi electric vehicle.