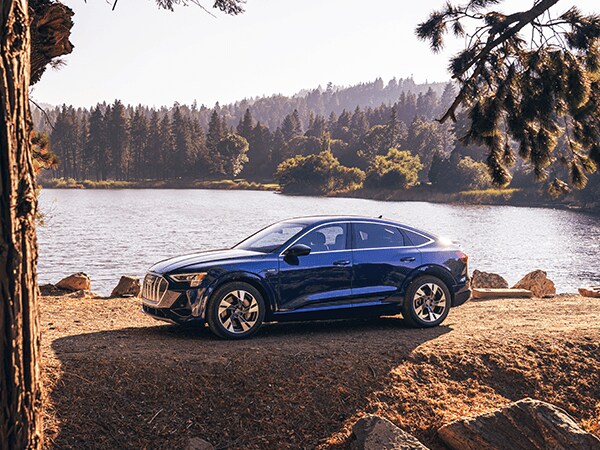 The e-tron is a luxurious and high-performing SUV with all the space you need for your everyday life. With Audi's rich history in engineering excellence behind it, this electric vehicle has been designed to be efficient as well as provide long-range capabilities so that driving doesn't have any limitations whatsoever!

The e-tron Sportback twin motors have 355 horsepower, and that can rise up to 414 hp when in the temporary Boost mode. Acceleration is brisk, and the Sportback can hit 60 mph in 5.5 seconds with the Boost mode on. When the battery runs low, it takes approximately ten hours to charge the Sportback 95-KWh battery pack using a level 2 charger. However, if you use a public DC quick charger, it takes only 30 minutes for the battery to charge up to 80 percent.

Seating and interior area

Despite its sleek looks, the 2022 Audi e-tron remains a family-friendly 5-seater SUV with sufficient area to seat 5 adults in comfort. The front seats are charmingly supportive and should keep its occupants relaxed for as long as possible. The rear seats are a bit flatter but still provide good thigh and back support. The legroom and headroom in the front are more than enough for 6-feet tall occupants. The rear legroom is just as nice, although the rear headroom is smaller by around 0.7 inches due to the Sportback's roofline sloping.

Handling and driving impression

Electric cars weigh more than ordinary gas-run vehicles due to their heavy battery pack setup. More weight tends to mean inferior handling, but in the case of this vehicle, its low-mounted battery pack actually allows the vehicle to feel more stable at speed and when cornering. The e-tron Sportback is a very planted SUV that does not feel like it will tip over in corners. The regenerative brakes are quite strong and can provide one-pedal driving if the driver wants it.

The vehicle received a 5-out-of-5 star safety rating from the NHTSA. The 2022 e-tron Sportback specs a full complement of 8 airbags, forward-collision warning with mechanical emergency braking, cruise control, high-beam assist, rear-cross traffic alert, vehicle-exit warning, rear-view camera, and lane departure warning. The premium plus includes adaptive cruise control with traffic-jam assist and traffic-sign recognition, and a perfect view camera system.

Audi e-tron Sportback Models

The Audi e-tron 2022 Sportback is offered in 3 trim levels: premium plus, premium, and prestige. Power is derived from a 95-kWh battery pack and sent to front-and-rear mounted motors, making the e-tron Sportback all-wheel drive. 414 lb-ft of torque and 355 horsepower guarantee rapid acceleration. The EPA estimate range is 219 miles.

Android Auto and Apple CarPlay are included so that you can use your smartphone to access music, navigation, and other apps. The vehicle also comes with the Audi Virtual Cockpit, a 12.3-inch digital instrument cluster, ensuring that all the driver needs is right in front of them. Wireless charging and a Bang & Olufsen 3D sound system are also accessible, which makes the cabin a very pleasant place to be in.