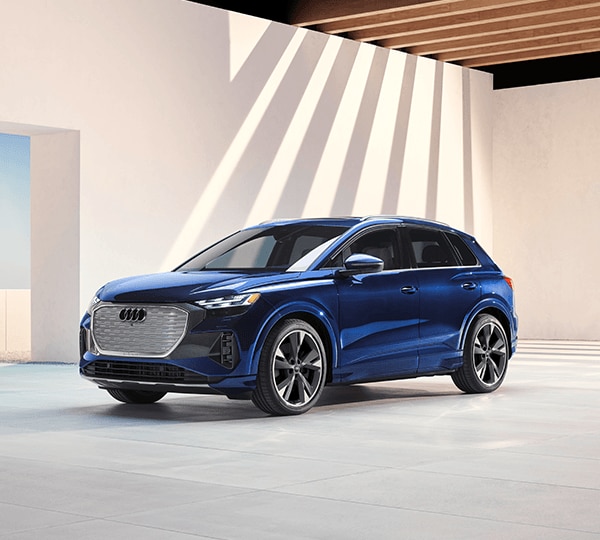 The switch to electric vehicles is at the forefront of every driver's mind. With the pressure on reducing emissions and the current ban on gas cars headed by the state of California, more automakers will be transitioning to producing more electric cars to stay relevant. Audi has been a leader in innovation with a focus on producing a high-quality luxury electric SUV people love to drive.
The Audi Q4 e-tron is one of the Audi electric SUVs. The Q4 e-tron perfectly blends performance with practicality that's fun to drive with a luxury feel. Enjoy ample cargo space, incredible smart technologies, and a surprisingly quick ride, all while doing your part to reduce carbon emissions. Read on to learn more about what makes the Audi Q4 e-tron the perfect SUV for your next ride.
The base powertrain for the Audi Q4 e-tron can reach up to 295 hp and go 0-60 mph in 5.8 seconds with boosts engaged. The battery of the 82-kWh core provides remarkable speed and precision. The Q4 e-tron is equipped with Audi's patented quattro all-wheel drive, known for its exceptional and intuitive handling.
You can charge your Audi at any public DC fast charging station with a charge time of 36 minutes on average. With a full charge, you can get an average of 241 miles, depending on your conditions.
The spacious leg room and ample storage features allow you to fit up to 5 passengers in the roomy compartment comfortably. The 40/20/40 split-folding rear seats easily provide you with configurable plenty of space for your cargo needs.
The standard leather seating and wood trim offer a stunning, luxurious ambiance. The dual pane windows allow for a more serene and quiet drive.
Technology integrated within vehicles has impressively enhanced the driver experience, with Audi leading the way with innovation and design, creating an exceptional intuitive driving experience. The Q4 e-tron includes an augmented reality head-up display that provides real-time drive updates without changing your line of sight. With Audi connect, you receive seamless, fully integrated tools that provide navigation, remote vehicle services, enhanced security features, and roadside assistance.
The safety features and drive assist technologies make for a safe ride all around. It features the standard collision warning and automated emergency braking, blind spot monitoring, and rear cross-traffic alerts. The Audi pre sense front scans the road ahead, warns you of potential accidents, and gently applies brakes automatically if there is no response. The adaptive cruise control features lane guidance and a preset distance to always keep the car in front of you at a safe distance while keeping you in your lane.
The high-end Audi Q4 e-tron is a quality luxury SUV with the power of an emission-free electric motor that makes you feel good about your contributions to reducing carbon emissions. With its superior ride, ample space, beautiful finishes, and smart technology, the Audi Q4 e-tron is undeniably a stylish package with real-world range and charging capabilities giving it the practicality you need in an SUV. Whatever your goals, if you're in the market for an electric SUV, the Audi Q4 e-tron is a reliable option with the feel of an Audi that's more affordable than many of the electric vehicles on the market today.