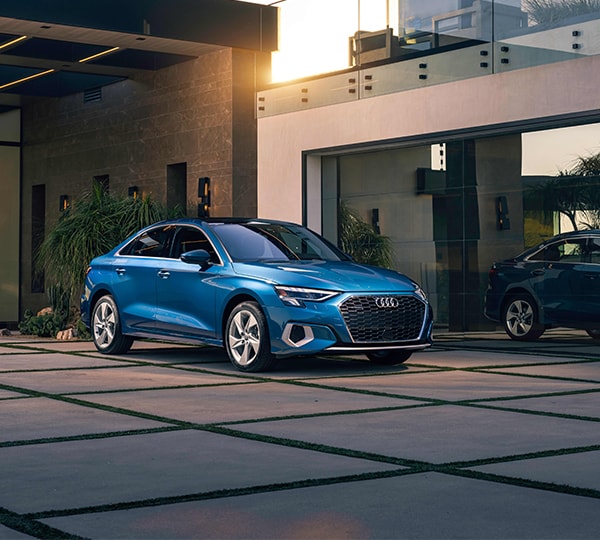 Are you looking for the perfect vehicle to fit your lifestyle? Look no further than the 2023 Audi A3. This luxury vehicle is an excellent combination of performance, interior technology, and driver assistance features. This vehicle starts at $35,400 and has an EPA-estimated 32 MPG making it both powerful and efficient. And with different wheel options and exterior colors, you can design your very own Audi A3 that fits your style perfectly.

The 2023 Audi A3 is powered by an inline 4-cylinder engine with 201 horsepower, 221 lb-ft torque, and the ability to go 0-60 in 6.6 seconds. That makes it quick off the line and highly responsive when you need to make sudden maneuvers on the road. Its combined 32 MPG EPA rating also gives it excellent fuel efficiency.
The 2023 Audi A3 comes standard with interior technology that makes it easy to access messages, contacts, and playlists with just a touch or swipe, much like you would on a smartphone. Its virtual cockpit also shows important information right in your field of view while driving, so there's no need to take your eyes off the road. The smartphone interface allows you to sync your mobile device with ease so you can stay connected while on the go.
The 2023 Audi A3 also offers driver assistance such as adaptive cruise assist with lane guidance, audio pre-sense front, which scans the road ahead for potential hazards and brakes automatically when needed, parking assist, and lane departure warning -all designed to help make your driving experience easier and safer.
To make the 2023 Audi A3 even more attractive, you can customize it with different wheel and exterior color options.
The automotive engineers at Audi put a lot of thought into making sure that this car looks good in any situation. Whether you're driving to work or out for a night on the town, your Audi A3 will always look its best.
If you are looking for an affordable luxury car that has plenty of power under the hood, along with advanced technology and driver assistance features, then look no further than the 2023 Audi A3. With its impressive performance specs, sleek design options, and top safety ratings from IIHS - this car has something for everyone! If you're ready to get behind the wheel of something special - consider investing in an all-new Audi A3 today!
At Audi Fresno, we know that the perfect luxury vehicle for you is out there, and our team is here to help make the search easier. Stop by today and let us show you why the 2023 Audi A3 is the ideal luxury vehicle for your lifestyle! Schedule a test drive or reach out with any questions you have - we'd love to help!